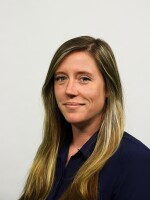 Veronica Volk
Senior producer
Veronica Volk is a senior editor and producer for WXXI News.
Previously, she reported on environmental and economic issues facing the people and wildlife of Lake Ontario for Great Lakes Today.
Veronica produces Ear Shot, a weekly podcast that brings you on-demand stories, interviews and other tidbits of what's happening around Rochester and the Finger Lakes.
She is also the producer of Exited, a podcast about young adults with intellectual and developmental disabilities transitioning into life after public school, and producer and co-host of the true-crime podcast Finding Tammy Jo along with Gary Craig of the Democrat and Chronicle.
Veronica got her start as a reporter in the Bronx for WFUV Public Radio, and later rose to senior producer of their weekly public affairs show Cityscape. She is originally from the Jersey Shore, which is nothing like how it is portrayed on MTV.

The Rochester Museum & Science Center is recruiting ambassadors to get the word out about next year's total eclipse. Local town supervisors are concerned about Gov. Kathy Hochul's housing initiative. And a recent graduate of the Rochester City School District says he plans to run for elected office this year.

Local organizations are helping people with disabilities enter the workforce by connecting them to potential employers.

Catchy, compelling songwriting is a precious resource, and one Rochester band is hoarding songwriters like the well's about to go dry.

A center for teens in Rochester is to be named after two of the most prominent community organizers.

U.S. Senate Majority Leader Chuck Schumer and Sen. Kirsten Gillibrand announced Wednesday that $250 million in funding is headed to the Rochester and Finger Lakes region.

RSV cases have surged this season, including here in Rochester, and some parents are experiencing the worst of it firsthand.

An ongoing mental health crisis affecting college students has only been exacerbated by the pandemic. And the largest class of New York State Forest Rangers just graduated, ready to fight fires, patrol state land, and conduct search and rescues.

Developers have begun construction on an ambitious, multi-year plan to build up a challenged Rochester neighborhood.

Some people with disabilities report a lack of trust and comfort in relationships with their primary care physicians. One program hopes that training doctors can make a difference.

Rochester's Central Library is brimming with books and other items that people check out each day, but we look deeper and find some real treasures.