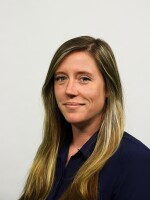 Veronica Volk
WXXI News editor/producer
Veronica Volk is an editor and producer for WXXI News.
Previously, she reported on environmental and economic issues facing the people and wildlife of Lake Ontario for Great Lakes Today.
Veronica produces Ear Shot, a weekly podcast that brings you on-demand stories, interviews and other tidbits of what's happening around Rochester and the Finger Lakes, all from the WXXI News team.
She is also the producer of Exited, a podcast about young adults with intellectual and developmental disabilities transitioning into life after public school, and producer and co-host of the true-crime podcast Finding Tammy Jo along with Gary Craig of the Democrat and Chronicle.
Veronica got her start as a reporter in the Bronx for WFUV Public Radio, and later rose to senior producer of their weekly public affairs show Cityscape. She is originally from the Jersey Shore, which is nothing like how it is portrayed on MTV.

Development projects underway in the Neighborhood of Play include retail space and apartment buildings, but also, dragons. Plus, Danielle Ponder's star continues to rise with the release of her debut solo album, "Some of us are brave."

People with blood disorders are at risk amid an ongoing blood shortage. And the Rochester Fringe Festival is taking a cue from Las Vegas casinos and high-end spas by adding a scent to its Spiegeltent.

Garth Fagan is a household name in Rochester. This week we peek behind the curtain and hear a story about his influence through the perspective of two of his dancers.

Kids across Monroe County are gearing up for the first day of school, but there will be less teachers in the building. And a growing movement to cancel late fees at the library grows momentum, but not everyone is on board.

Electric vehicles are in high demand, but support from local governments is lagging.

A collection of stories and interviews from Rochester gathered through a project aimed at preserving oral histories about one man learning about his roots, one small business and its lasting impact on the community, and one family processing the loss of their loved one to the AIDS virus.

An artist pays tribute to three national guardsmen who died in a helicopter crash last year. And we meet the newest member of the Adirondack Park Agency board, and hear what she wants for one of New York's most treasured regions.

This summer, in Ireland, two Rochester women were crowned World Champions in ultimate frisbee. We meet them and learn more about the sport that prides itself on Spirit of the Game.

Graffiti is on the rise, and some established artists are seeing their murals tagged over by novice teenagers. What separates art from vandalism?And a sixteen-year-old is fighting to make active shooter drills and emergency plans more accessible for kids with disabilities.

For a lot of people, getting a haircut is also a time to socialize and connect with someone they trust. That's why barbers and hairstylists are being recruited to help people access health screenings and other important information.