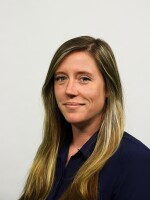 Veronica Volk
WXXI News editor/producer
Veronica Volk is an editor and producer for WXXI News.
Previously, she reported on environmental and economic issues facing the people and wildlife of Lake Ontario for Great Lakes Today.
Veronica produces Ear Shot, a weekly podcast that brings you on-demand stories, interviews and other tidbits of what's happening around Rochester and the Finger Lakes, all from the WXXI News team.
She is also the producer of Exited, a podcast about young adults with intellectual and developmental disabilities transitioning into life after public school, and producer and co-host of the true-crime podcast Finding Tammy Jo along with Gary Craig of the Democrat and Chronicle.
Veronica got her start as a reporter in the Bronx for WFUV Public Radio, and later rose to senior producer of their weekly public affairs show Cityscape. She is originally from the Jersey Shore, which is nothing like how it is portrayed on MTV.

A group of Seneca Nation people are working to reclaim a language that was almost completely lost to them.

A local agency is trying a new approach to retaining their employees – they're supporting them at work and at home. Plus, a local ballerina is retiring, but not before breaking some ballerina stereotypes.

Meet the man who has planted 15,000 daffodils in Mount Hope Cemetery. Plus: A welding class geared toward young women aims to create a boom of female tradespeople.

A local environmentalist is trying to convince people to let go of their perfectly manicured lawns. And plans are in the works for a large pavilion in Highland Park. Plus, A particularly deadly strain of bird flu is spreading through New York, from wild birds to chicken farms.

For many years, people seeking jobs have been at a disadvantage when it comes to negotiating pay. Now more places, including New York, are considering requiring employers to divulge pay ranges. And in Monroe County, Black mothers and their babies are at a higher risk of complications and mortality.

An afterschool club for elementary school students focused on LGBTQ education is at the center of a heated debate in the Pittsford Central School District. And in the North Country, one local doughnut shop/laundromat has endured for decades. What is their recipe for success?

At the height of the Cold War, Rochester residents built their own fallout shelters. Some of them are still scattered around town. Plus: More people are choosing the sober life, and more organizations are catering to them.

Bird flu has been detected in flocks of fowl in New York state, and now the Department of Agriculture is shutting down fowl shows and warning poultry farmers to be cautious.

A Rochester couple wants to be an example for affordable eco-friendly living. Plus: As more New Yorkers wait for trial at home, few communities are paying for services to support them.

Will giant parachuting spiders spread through Rochester? Plus: Warmer winters mean a shorter season for ice fishing. And Public Health Commissioner Doctor Michael Mendoza reflects on two years of COVID.