Contractors want $200M to finish New York's rest stop project. They may not get it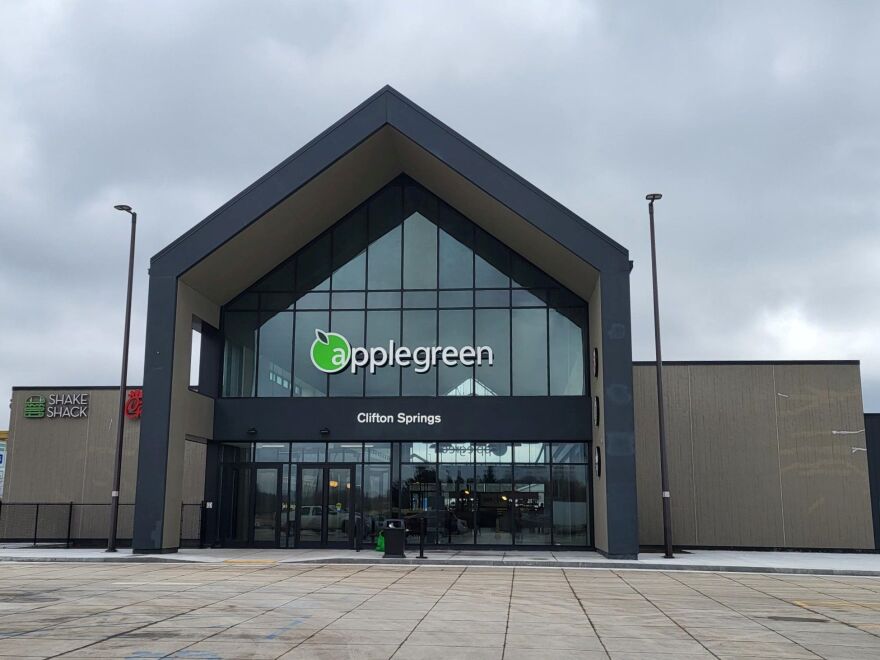 A massive project to rebuild and renovate rest stops along the New York state Thruway is behind schedule — and reportedly way over budget.
Now state lawmakers are being asked for a bailout. They've been told the project needs an infusion of cash to get finished, despite promises that this wouldn't cost taxpayers a dime or even tap into Thruway toll revenues.
"They have made this very serious," said Sen. Jeremy Cooney, D-Rochester.
Cooney has been involved in negotiations with Rochester-based LeChase Construction and other project partners as a member of the Senate's Transportation Committee and chairman of the Contracts and Procurement Committee. Talks are loosely tied to the budget.
LeChase is said to be handling most of the construction but is a minority partner with a multinational corporation AECOM Tishman. Their joint venture, called ESC Partners, made the ask.
No dollar amount has been specified, Cooney said, but he estimated the shortfall at $200 million. The Buffalo News, which first reported the story this week, put the need closer to $260 million.
"Whether they can continue to do work on the Thruway is determinative of the ability to get additional financial help," Cooney said.
'Do they have the funds?'
In a statement, LeChase noted "unprecedented global price escalation and supply chain issues" but did not address the project status, cost overruns or needing help.
Representatives for AECOM Tishman did not respond to a message seeking comment.
Construction on what was announced as a $450 million project began in summer 2021. Today, less than half of the work is done.
Five of the 27 rest stops have been rebuilt and opened; five more should open by mid-June. Several more are in various stages of construction.
Those that are finished have faced criticism as being small and lacking in services and supplies. Thruway officials counter that each was designed — and scaled — based on traffic and sales volumes, and those finished first were among the lowest in both categories.
The project was to be done in two phases. Rest stops yet to be tackled include ones near Le Roy, at DeWitt outside of Syracuse, and others approaching Albany.
"The question is do they have the funds to not only purchase materials, but to pay for the construction of the second phase?" Cooney said.
And who should pay for it, as the contracts in place make the contractors responsible for cost overruns. Further complicating matters, The Buffalo News reported there are conflicting accounts of the cost overruns. A consultant's report to the project lenders this month indicated that the work is on budget.
'No taxpayer dollars … no bailout'
Leading the project — and the company that contracted with the Thruway Authority — is an Irish firm called Applegreen.
Cooney is open to adjusting the contract terms, possibly extending the lease term, or even providing some level of bailout as long as the money flows first to LeChase and its subcontractors, many of which he says are women- and minority-owned.
Assemblyman Harry Bronson, dean of the Rochester delegation, is not.
While he supports the construction industry, Bronson said he also understands the business. These are sophisticated companies, he said, that entered into contracts knowing the risks. LeChase was founded in Rochester nearly 80 years ago and today employs 750 people with offices across New York and three other states.
"They are in a contract with a very large company that has contracts with Connecticut, New Jersey, Pennsylvania," Bronson said. "It's a huge company. And if there needs to be concessions, then they should be discussing that with Applegreen."
That is part of the discussion, officials said.
The deal was for Applegreen — which hired ESC Partners — to rebuild the weathered and outdated rest areas in exchange for a 33-year lease of the facilities and a cut of revenues.
Bronson opposed this deal, in large part over the inclusion of Chick-fil-A, a popular fast-food restaurant with a history of supporting anti-gay causes. He wrote a letter signed by dozens of his colleagues. The response came back that it wasn't up to legislators because the project didn't involve tax dollars.
"So that was their answer: No taxpayer dollars," he said. "So my answer back to them: No bailout."
A LeChase spokesperson said anything happening with the rest area work will not affect "other current and future projects." The company's other Rochester projects are notable, including expansions of The Strong Museum of Play and Highland Hospital.
Below is my letter to Governor Hochul raising concerns of a request for a taxpayer bailout for the thruway rest stop project. It would be a very "slippery slope" if the state were to begin bailing out private construction companies when there are cost overruns. #NoTaxpayerBailout pic.twitter.com/R4IfAfhwV7

— Harry B. Bronson (@HarryBBronson) April 14, 2023