NY bets big on aging nuke plants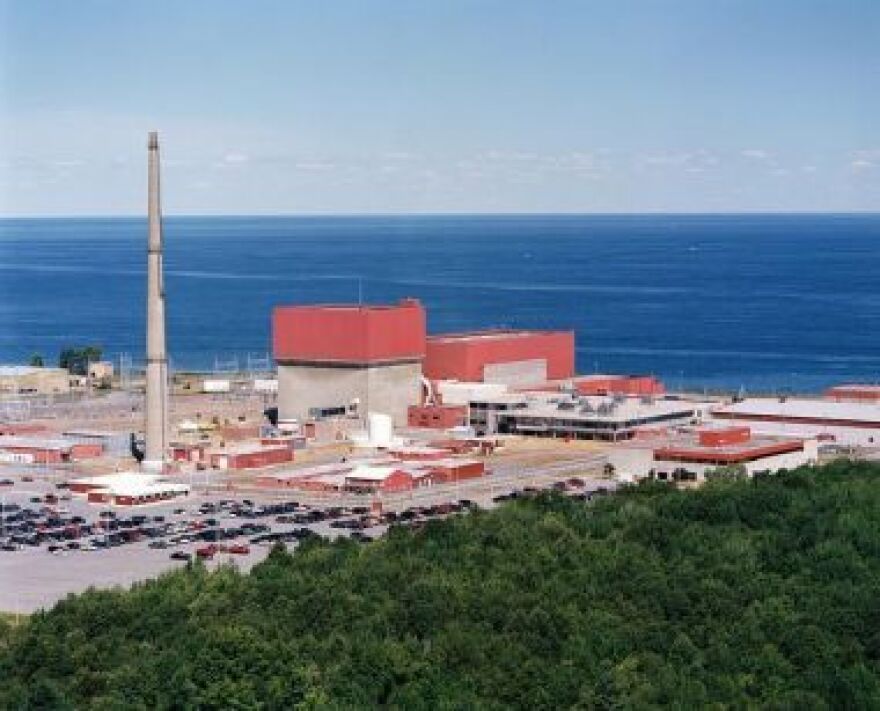 OSWEGO, N.Y. (AP) — When the Nine Mile Point reactor first went online, Richard Nixon was president, the Beatles were still a band and Three Mile Island, Chernobyl and Fukushima weren't yet bywords for the hazards of nuclear power.
Almost 50 years later, New York state is betting big on the future of Nine Mile Point, one of the nation's two oldest nuclear plants.
The state is putting up $7.6 billion in subsidies to ensure that the plant and two other upstate nuclear plants stay open, part of New York's strategy to lean on nuclear energy as it ramps up renewable sources such as wind, solar and hydroelectric.
But even as Democratic Gov. Andrew Cuomo's administration embraces nuclear power upstate, it's moving to shutter the Indian Point nuclear plant some 30 miles north of New York City.
To critics, Cuomo is making a political calculation that favors jobs and energy upstate, and safety and the environment downstate.
"These things have an expiration date, and they're really pushing it," said Sue Matthews, who worked for contractors building Nine Mile Point's second reactor in the 1980s. She said her opposition to the plant makes her the "most hated" woman in town. "Everyone here depends on that place — the jobs, the property taxes. They can't afford to close it."
Nuclear plants around the nation are at a similar crossroads, with more closures likely as owners become reluctant to spend increasingly large sums operating aging plants.
Located on the shores of Lake Ontario, Nile Mile Point is a wonder of Cold War-era engineering, with miles of colored pipes and wires snaking through long corridors to a cathedral-sized turbine room. Anyone getting close to the reactor is fitted with a small dosimeter to monitor exposure, and must step inside a phone-booth sized radiation scanner before and after.
The plant's first reactor went online in 1969, sharing the nation's-oldest honor with the Oyster Creek plant in New Jersey.
Immediately adjacent to Nine Mile Point is a second, 42-year-old nuclear plant, FitzPatrick, which was slated to close before Cuomo's nuclear bailout package was approved. A third, the 47-year-old Ginna nuclear power plant, is located just east of Rochester in Wayne County.
Closing the plants would devastate an upstate community that like most of upstate New York has struggled over the decades. Oswego County has one of the state's highest unemployment rates — 6.7 percent last month, compared to 4.5 percent statewide. The two plants here employ 1,600 people and pay far above the area's average salary.
"These aren't just normal jobs," said Oswego Mayor Billy Barlow, a Republican. "These are high-paying jobs, the people who eat in our restaurants, shop in our stores, who make our community what it is."
Reactor operator Donald Crisp II spoke to The Associated Press during a recent tour of Nine Mile Point, a rare behind-the-scenes look at one of America's tightly controlled nuclear facilities. Crisp, who learned his profession working for the U.S. Navy, closely watches the wall of lights, gauges and controls monitoring water pressure, temperature and power fluctuations to ensure the plant remains productive and safe.
"We train for the end-of-the-world scenarios," he said.
Nuclear plants are costly to operate, making it increasingly hard to compete with natural gas and other cheaper forms of energy. Both Nine Mile Point and FitzPatrick faced the possibility of closure before the state agreed to the subsidies.
"If FitzPatrick closed, 615 families would be devastated. There would be 615 lost jobs — average wage $120,000 — that would basically be irreplaceable in Oswego," Cuomo said last year when he announced the nuclear bailout deal. "This state cannot lose our supply of nuclear energy. I believe the state has a moral obligation, a financial obligation and a civic obligation to step in."
Electric consumers will pay on average about $2 more per month to raise the money. Cuomo argues that if the nuclear plants closed, they would be replaced by natural gas or even coal plants, which would make it harder to reach the state's goal of generating half of its electricity from renewable sources by 2030.
The administration isn't as concerned about making up for the power generation to be lost at Indian Point, however, even though the facility generates the equivalent of a quarter of the electricity used in New York City and suburban Westchester County.
More than 17 million people live within 50 miles of Indian Point, compared to just under 1 million for Nine Mile Point and FitzPatrick.
Environmental groups critical of nuclear power don't like Cuomo's approach.
"The governor should take his own advice," said Alex Beauchamp, of the group Food & Water Watch. "And close the other nuclear plants upstate instead of propping up a costly and unsafe industry with $7.6 billion in New Yorkers' money."