Hundreds of teens explore careers in construction trades as unions seek a new generation of workers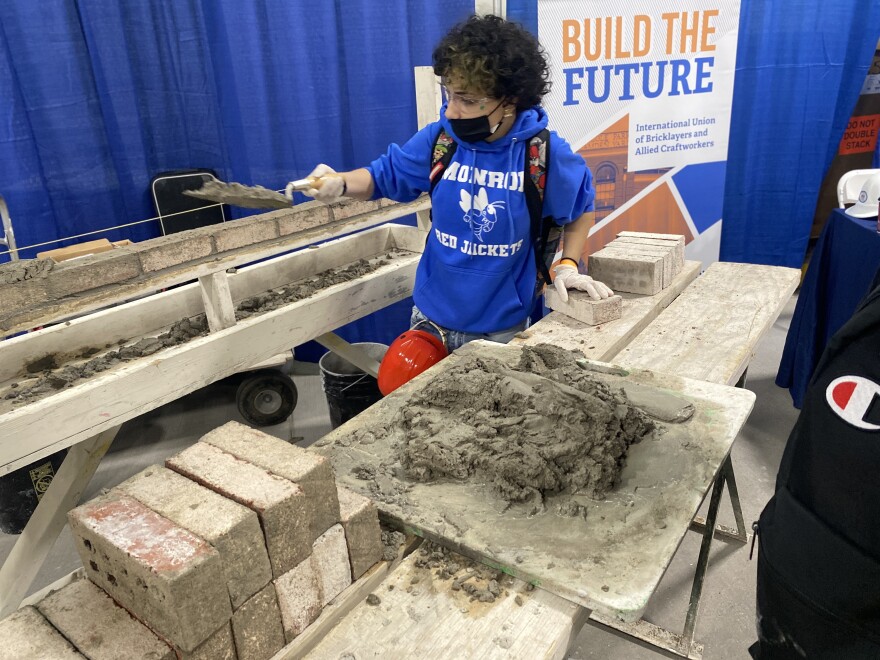 Justus Singleton, a 16-year-old who attends UPrep High School, was one of hundreds of students who got to hammer nails, drill screws, and fit pipes at the 23rd annual Rochester Construction Career Day.
Monroe County and local trades unions hosted the event at the county's Fleet Center near the Frederick Douglass Greater Rochester International Airport.
Singleton, like most of the students, said he's rarely done anything like this before.
"It's kind of a new experience because I'm not just sitting in a classroom and typing on a computer. I'm actually in person, getting to do things," he said.
Of all the things they tried, they had the most fun laying bricks, and Singleton said he would consider doing it for a living.
"I tried the pipefitting but I like the layouts of the bricks, though," he continued. "The layout that you have to put it in, the pattern, you got to think about it. Not everybody could work that job. It's not an easy job, but I think I could do it."
Yaneli Torres, a 17-year-old who attends James Monroe High School, had a similar experience laying bricks. She said she wants to build things for living or maybe become an architect.
"I think it's good practice for me. Sometimes I spend my spare time drawing," Torres said. "And on TV I like to watch people building houses and stuff."
If Torres and Singleton get into these trades, they'll have plenty of options. The New York State Department of Labor has laborers and construction workers on its list of the most in-demand jobs in the Finger Lakes region for the next decade.
Jeremy Cooney, a Democrat who represents the 56th Senate District, called building trades a pathway out of poverty without the need for college.
"To see hundreds of young people in hard hats because they're willing to learn about plumbing or carpentry says we have a willing and ready workforce," Cooney said. "If we expose students at an earlier age to careers in construction, we can change the lives not just of that one graduate or that one student, but the lives of their families."
Fourth-generation mason Robert Miller is the apprentice coordinator for the Brick Layers Local 3. Miller's specialty is historical restorations, including working on the stonewall along Holy Sepulchre Cemetery on Lake Avenue as an apprentice. The appeal of his work, Miller said, is how long it stands.
"When I go by that wall, I can show my son that that's where I worked at and your uncle worked at and my brothers worked on that same wall with us," he said.
As tradespeople retire, Miller said his industry badly needs an influx of younger workers to preserve historical buildings. If they don't seize the opportunity, he said unions will have to turn elsewhere.
"We have gentlemen from I believe Ohio and as far away as Atlanta, Georgia, coming to Rochester to work right now because we have so much work," said Miller. "We're trying to get out to these job fairs and vocational schools to bring in as many apprentices as possible."
Miller said all you need is transportation, drive, and a commitment to learn in order to have a lifelong career. He said people are paid $21 an hour to learn on the job for four years. After all that training, most of them make more than $50 an hour.