We've compiled all the latest stories about the coronavirus pandemic here so you can find them easily.We've also compiled a list of informational resources that can guide you to more coronavirus information.
Monroe County moves ahead with reopening plans as leaders urge caution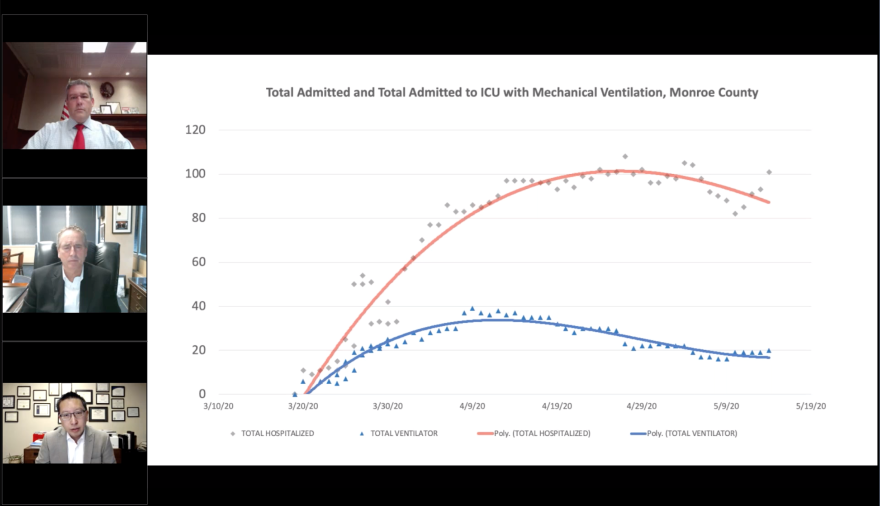 As Monroe County and the rest of the Finger Lakes region began to reopen Friday, hospital leaders and government officials said they were keeping a close eye on the statistics that could foretell a surge of COVID-19 cases.
Monroe County public health commissioner Dr. Michael Mendoza said the region met all the benchmarks set by Gov. Andrew Cuomo to begin reopening certain parts of the economy.
"There are no signs at all in the data right now that our hospitals are seeing any kind of a surge from COVID-19," Mendoza said Friday morning in a video conference set up by the Greater Rochester Chamber of Commerce.
Still, he said, that status was a bit precarious.
"We cannot reopen too quickly. The major risk in reopening too quickly is that we undo all of the wonderful progress that we have achieved to date," Mendoza said.
The number of people in hospitals for COVID-19 treatment in Monroe County reached a new high Thursday after five straight days of increases, but the increase in new hospitalizations in the Finger Lakes region were not enough to trigger a retreat from reopening.
Bob Duffy, the CEO of the chamber of commerce and a special advisor on the state's regional reopening task force, said it was never a sure thing.
"The numbers came painfully close to us not reaching the metrics for phase one reopening," Duffy said. "We have to remain vigilant, we have to follow the guidelines because this virus is not leaving."
Rolling averages, which smooth out daily blips in the data, still show the region on a COVID-19 plateau, Mendoza and local hospital officials said.
Last month, it looked like hospitals in Monroe County would be overwhelmed by COVID-19. They made plans to crowd hallways and cafeterias with hospital beds to treat an expected surge of patients. At one point, Mendoza said every model projected that local hospitals would run out of capacity to treat COVID-19 patients.
Aggressive adherence to local and state guidance on physical distancing and hygiene by people in the Finger Lakes area staved off that result, said Dr. Emil Lesho, an epidemiologist at Rochester Regional Health.
Still, Lesho said, the epidemic is far from over in the region. It's just stabilized for now.
"We're not seeing a down-slope," Lesho said. "What we have done was averted the disaster."
Lesho and Mendoza both said the progress the region has made is fragile. They said they hoped people would continue to avoid large groups and wear masks when physical distancing is impossible.
Lesho said he understood the perspective of people who have longed for a return to normal life, but he said the experience of treating people who were sick with COVID-19 gave him a different outlook.
"You see patients who are in the ICU for weeks and weeks, and then they get off [the ventilator] finally, they survive, but they're too weak to breathe on their own, so they need a hole in their throat," he said. "You ask, 'Is it really worth it to throw away the progress we've made if it means more of that?' "
Lesho also said hand-washing -- a major part of the initial effort to slow the spread of the novel coronavirus -- hasn't been getting enough attention recently as masks and distancing have been dominating the conversation.
"We really have to keep up our hand hygiene," he said.